(PRWEB UK) 29 April 2014
Land lubbers and shipmates please note:
Brighton based Beacon ETS stress tested Thomson Reuters products at Sea, April 15th 2014.
Chris Smith, Founder, Senior Technical Consultant and 'Salty Sea Dog' at Brighton based, Beacon ETS, explains, "Beacon ETS (trading as LJE Ltd) are a Market Data and Open Source I.T Solutions provider Specialising in design and installation/support of bespoke Solutions and Infrastructures for Investment Banking and Private Investors, since 2003.
Many motor yachts like Slipstream, are already fitted with Sea Tel satellite systems, designed to provide robust and reliable internet connectivity in all weathers and sea conditions.

Beacon ETS completed full stress testing, of two major Market Data vendors, defined in Project 'Trade Outside' aka Blue Ocean.
Whilst onboard testing, I witnessed two important World News Stories.

1. Earthquake in Iran
2. Bomb at Boston Marathon
These News items would have been important events that Traders or Investors would have acted upon from their office, wherever they had connectivity and could use Thomson Reuters or similar.

With current Satellite go anywhere Technology, it is possible for Banks or individuals to work on the move, using products they already have on the trade floor.
The testing was conducted with the full support of Livewire Connections Ltd , Slipstream Motor Yacht's VSAT airtime and IT service provider, Thomson Reuters, ships crew and another Market Data provider, who unfortunately we cannot mention.
During the sea journey of 30 hours/540 nautical miles (some of which in Storm force winds), Beacon Super Yacht Electronic Trading Solutions, were well away from terrestrial GSM/3G services and were completely reliant on the yacht's satellite system for internet access.
Using the yacht's standard satellite internet connection Bandwidth (512k), Beacon ETS were able to confirm that Thomson Reuters Eikon performed extremely well, with 4000+ realtime instruments in Excel and full featured desktop applications. The tests were re-run numerous times during the journey, including Asian, European and U.S Market Open, over the variable latency link and various weather conditions.

The crew continued their normal duties and used the shared broadband link without being affected by the Market Data testing.
The Sea Tel VSAT system, fitted to the yacht and the Market Data vendors we tested other than Thomson Reuters also proved to work efficiently and provided very light Bandwidth usage figures (max 200kb/s), with no loss of connectivity or features, during the testing period.
Some additional tests where also performed during the time onboard Slipstream and in some pretty rough sea conditions, using apple Macbook Air with Oracle VirtualBox, (desktop virtualisation ) making the results even more impressive!"
Now, after the test's successful completion and with deep benchmarks planned, a new opportunity is available for other trading technology solutions and vendors to 'get onboard!'

The future looks interesting, as other existing trading technology solutions and vendors can adapt their products to utilise Fixed Land Site, or Satellite Broadband + Private Leased Line solutions in the Mega yacht sector.
Large privately owned motor yachts and charter guests or Banking Institutions, can now request access to full Professional Trading production versions, for retrieval of real time Market Data and manipulate positions in realtime, whilst at sea.
For the Time being 'Step outside for Summer !' Trade Outside(TM)….Sea, Land or Air; Trade like the office but without restriction and follow the sun.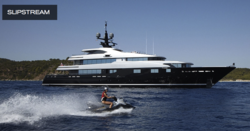 I have two external drives, one USB powered and the other plugged.Can I use either to install Windows on my Macbook air or do I have to use an Apple external Superdrive?

Answer by Sean H
I'm assuming that you are talking CD/DVD drives only since you reference the Superdrive. The info below assumes you're planning to install Windows on your local hard drive using a USB CDROM.
To install Windows into Bootcamp you're going to need the Windows install disc and drive, a standard USB CDROM should work… easy enough to test (I'd try the powered one first).
To install Windows into a virtualization env (Virtualbox, Fusion, Parallels) you'll need either the Windows install disc or an ISO of the disc. A USB CDROM should work for the install once you pass control from OSX to the virtual machine. Again best to try the powered drive first.
Recommended: